Third-Party Nutraceutical Manufacturers
Greenwell Lifesciences is undoubtedly the Best Nutraceutical Medicine Manufacturers in Derabassi, Mohali Punjab for the Beauty care products range among pharma franchise companies. Their actual devotion and logical methodologies have been energizing advancement in "Greenwell Lifesciences" for quite a while in a possible way.

Third-Party Nutraceutical Medicine Manufacturers in Derabassi, Mohali Punjab. Are you are searching for the "best nutraceuticals third party manufacturers in Mohali, Chandigarh". If your answer is yes then we're here to help you. Greenwell Lifesciences, are a leading top WHO GMP ISO Certified third-party Nutraceuticals Manufacturing Company in Mohali.

The company is based in excise-free zone Derabassi, Mohali Punjab (India). We are well-known among the top nutraceuticals product contract Manufacturing Company in Mohali, Chandigarh. Greenwell Lifesciences is working on carrying all types of nutraceuticals medicines for third-party manufacturing such as multivitamins, multi-minerals, liquid prenatal vitamins, lycopene, vitamin D3, vitamin C, green tea extract, garcinia Cambogia, methylcobalamin tablets, raspberry ketones, multivitamin capsules, omega 3 fatty acids, antioxidants, alpha-lipoic acid, vitamin B12, etc.

We're offering 600+ WHO GMP Certified Molecules, having 12+ Certifications, 3000+ Valuable Clients, 20+ Product Segments Manufactured, & 13+ Years of Expertise. Greenwell Lifesciences is especially recognized for the Neuro and Psychiatric medicine segment. There are many pharma companies associated with us for third-party pharma manufacturing for the nutraceuticals range of medicines. We're the Best Top Pcd Pharma Companies in Nutraceuticals and also recognized Top Nutraceutical Company in Derabassi, Mohali Punjab (India).

Nutraceutical Medicines are those medications that are made from food sources with additional health gains. These medications are prepared to improve general well-being, check fatal processes, and control signs. The term Nutraceutical is made up of two terms where nutrient means nourishing food ingredients and pharmaceutical stands for a medical drug. That is how the term Nutraceuticals has been formed. With time, India has also started working in the fitness world. There is a hike of 25% in the demand for nutraceutical medications. Slowly and steadily people are moving towards nutritional supplements which are good for our human bodies.

Greenwell Lifesciences addition to vitamins, dietary supplements can contain minerals, herbs, amino acids, enzymes and many other ingredients. They come in a variety of forms, including gummies, drinks, energy bars, powder or pill form. Nutraceutical Product Manufacturers in Derabassi, Mohali Punjab (India) .Examples include magnesium pills, multivitamin gummies, and protein powder. Nutraceuticals – Wholesale, Dealers, Manufacturer, Supplier, Exporter in India Nutraceuticals Exporter List of Nutraceutical Product Manufacturers in Derabassi, Mohali Punjab (India) Nutraceutical Formulation Manufacturers, Nutraceutical Product, Nutraceutical Product Dealers, Nutraceutical Supplements. Nutraceutical Product made from natural sources that have health benefits beyond the basic nutritional value found in food. Nutraceuticals are used to promote general well-being and prevent illnesses.
Nutraceutical Manufacturers Company in Mohali
Greenwell Lifesciences is a leading Nutraceutical Manufacturers Company in Derabassi, Mohali Punjab we have wide range of Personal Care and Nutraceuticals Products.We Offer Franchise to dedicated and experienced persons. Our team of Professionals with experience in their own field. Top Nutraceutical Manufacturers in Mohali – Greenwell Lifesciences is a premier and Best Nutraceutical Manufacturers in India. Nutraceutical items are utilized for the specific dietary management of various infections and medical conditions. Nutraceutical items are also called medicinally or nutritionally useful food sources. The interest for medicinal food sources is expanding step by step to cure various problems that have a nutritional association. If you are the one who wants to launch new nutraceutical products then join your hands with Greenwell Life sciences. For further assistance, you can contact us on +919875982042 or you can send us your queries at greenwelllifesciences@gmail.com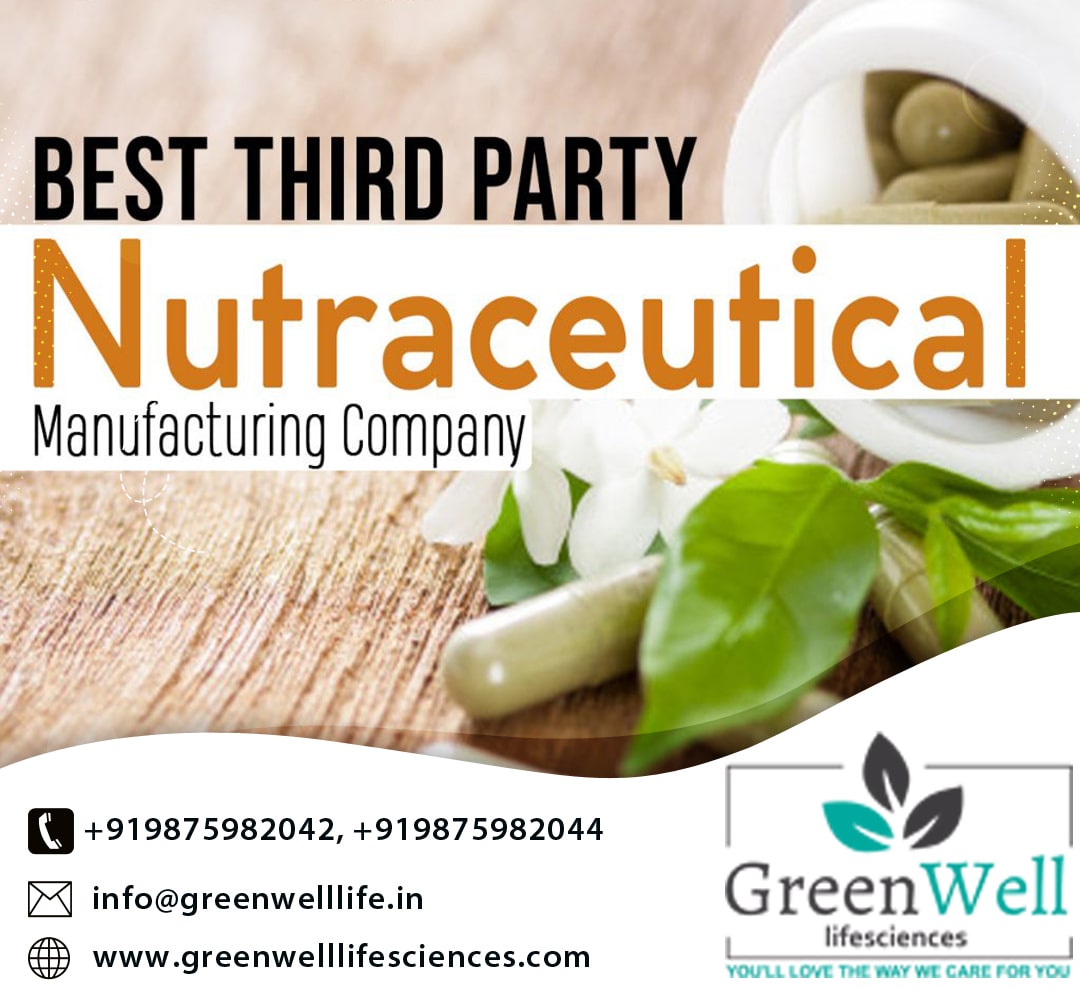 Nutraceutical products that are derived from food sources with extra health benefits.For instance, our name is plausibly pronounced across Ayurvedic herbal, skincare and psychiatric division also.These products promote general well-being, prevent malignant processes, and control symptoms. The term nutraceutical is formed by two-term nutrient means a nourishing food component and pharmaceutical means a medical drug. In our country India, there is a 35% hike in the demand for nutritional foods. More than 60% of the population uses dietary and nutritional supplements for their health performance. Greenwell Lifesciences is a specialized producer and manufacturer of nutraceutical products all over India. Also famous as a nutraceutical trader, supplier, distributor all over India. Our staff members are working very hard to offer excellent quality of products to our clients.

Nutritional items are designed to meet the particular dietary necessity of a sickness or condition that calls for healthful help. The primary wellsprings of nutraceutical items are:
• Animals
• Plants
• Microbes

Our Exclusive Products Range for Nutraceutical Manufacturing in Mohali Greenwell Lifesciences have almost all kind of nutraceutical product ranges which comes in different forms such as:
1. Soft Gel
2. Tablets
3. Capsules
4. Syrups
5. Granules
6. Sachet
7. Powder

Greenwell Lifesciences Nutraceutical Manufacturing Company India you have come to the right place. Nutraceutical Liquids, highest demand in pharmaceutical market because of the convenience in intake as compared to the pills. Nutraceutical Products are used to cure different health problems like diabetes, osteoporosis, cardiovascular disease, wound healing, pain management, gastrointestinal, psychological & neurological disorders, mitochondrial disease, depression, and many more. Applying advanced and innovative technology in the production process of our products, we aim to provide the best quality products.

Certification from ISO
ISO Certification
GMP & WHO Certification
Good Reputation
Trustworthy Products: All the products are best quality and trustworthy.
Get Associated with the Top Nutraceutical Company in Mohali, Certified with ISO & GMP Organizations

This is the whole relationship of trust and reliability quality which is a piece of our morals. In recent years, Greenwell Life Sciences has made every possible effort to improve the standard of nutrition products. Greenwell Life Sciences is among the Top Nutraceutical Companies in Mohali and a certified organization by ISO, WHO, and GMP. There is a need to specify that every single item is ISO certified, which enhances the enhances of each and every item we present on the lookout.
Greenwell Life Sciences has revolutionized nutrition quality as the prominent Nutraceutical Third Party Manufacturer in Mohali. Greenwell Life Sciences are the best nutraceutical powder manufacturing company and we can assure you about the quality of our products, all our nutraceutical products are ISO and GMP certified. We are a trust worthy Top Nutraceutical Manufacturers in Derabassi, Mohali Punjab and we have buyer's sellers. Our organization is most popular for its quality items and services.

Greenwell Life Sciences medicine that effectively works on the human body without causing any damage and harm to the body and lifestyle of people

We are manufacturing the following supplements for Mohali region market:
• Tablets
• Capsules
• Protein Supplements
• Multivitamins & Minerals
• Syrups
• Sachets
• Granules
• Powders
• And many more

The quality standard we have kept up with is imperative and further advocates the brand name. The aggregate endeavors we made to serve mankind have set up the benchmark in the Indian nutraceutical Industry. Our long out vision is vital to upgrading the quality at the global level development. We are offering a bundle of chances to any individual who needs to get related with our association as a vendor or establishment holder. Different undertakings are being presented by us who are changing the profession of energetic competitors. We are producing the best quality product serves various clients So, if you want to manufacture and market your own brand name nutraceutical products then join hands with the top-rated private Top Nutraceutical Company in Mohali.






Greenwell Lifesciences – Your one-stop for Nutraceutical Products
Greenwell Lifesciences has a wide range of nutraceutical products and being the Third Party Manufacturing of Nutraceutical Company in Derabassi, Mohali Punjab, India we sell the bulk amount of all our products. We cover practically every one of the helpful regions, for example,anti-arthritic, cold and cough, sleeping disorders, digestion and prevention of certain cancers, osteoporosis, blood pressure, cholesterol control, pain killers, depression, and diabetes medicine. We have proactively arrived at an achievement where individuals could trust our items and consume them with no hesitation as a top priority and we are consistently investing our amounts of energy into serving all that could be expected. Our nutraceutical organization is one stop for every one of your prerequisites of nutraceutical items; one can without much of a stretch reach us for a mass request for our nutraceutical items. The market for nutraceutical items is becoming quickly because of the rising pace of sicknesses and because of our great standing and dependable items; individuals like to purchase our nutraceutical items. We have wide variety of nutraceutical product Protein Powder Capsules Oil Syrup Cardio Care Eye Drops Tablets Ortho care Ointments
PCD Pharma Franchise We also provide a PCD Pharma Franchise in Derabassi, Mohali Punjab, Chandigarh opportunity for the people who want to start a business in the field of healthcare and to grow in pharmaceutical industry with making less investment. We are glad to welcome excited individuals to develop with Greenwell Lifesciences. Greenwell Lifesciences is a notable name in the business of medical care for the assembling of nutraceutical items as well with respect to outsider assembling of nutraceutical items. At our organization, you will get the best quality items at a reasonable reach. We are ISO and GMP certified organization which is additionally affirmed by WHO. Our organization will be satisfied to serve you with best, wanting to see you soon. • Manufacturing • The capsules we source are reasonable for a scope of items, including halal, fit, natural, veggie lover, and vegetarian.We understand that presentation is a key element of our customer's products, which is why we can offer capsules in a wide variety of colours. The pictures below provide a glimpse of the colour range available: • Products • Just like DIY stores, our capsule suppliers offer a colour matching service, so virtually any colour is possible. For larger volumes, logos or branding can be printed onto capsules.
Contact us
Greenwell Lifesciences
Plot No-249, Hansa Industrial Park, Barwala Road Derabassi, Mohali Punjab (140507)
Nutraceutical Medicine That Supports Human Body
Greenwell Lifesciences is the most renowned Best Nutraceutical Medicine Manufacturers in Derabassi, Mohali Punjab. We have effectively proceeded as a leading Third Party Nutraceutical Manufacturer in India. The human body is organized with different supplements and minerals. Nutrition is a crucial component which builds the human body like each living thing on the earth. We are Greenwell Lifesciences, making a quick step to help the advancement of good wellbeing with great nutrition. The nutraceutical play assumes a significant part in overseeing wellbeing and they urge the body to manage different diseases. It is our undertaking to guarantee the appropriate nourishment and anticipation of infection. By opening up the roads for the unique development and strength of the human body, we have shown up at nutraceutical items. We have been performing undertakings to show the red card to every one of the impediments in the method of nourishment. While assuming a critical part and handling different difficulties, we have effectively grown up as the Best Third Party Nutraceutical Manufacturing Company in Derabassi, Mohali, Punjab. With extraordinary difficult work and dealing with the quality, we are having another effect on the advancement of nutraceutical supplements.

Greenwell Lifesciences has composed another section of progress with extraordinary excitement, and began an excursion towards accomplishing the objective of turning into the Top Third Party Manufacturing Service Provider in Derabassi, Mohali Punjab nutraceutical segment. We have made such a culture of Outsider Assembling in Derabassi, Mohali Punjab which is serving different brands in India and motivating numerous business people and Nutraceutical Organizations in Derabassi, Mohali Punjab to get associated with us.
• With our highly committed, experienced and professional group, we are something other than a maker. We are incredibly glad for our way of life - one of integrity, development, impressive skill, and social obligation; and our tender loving care and quality control methodology are best in class. Customer relationships are extremely important to us. We work collaboratively with you and are on hand at every stage of your product's journey. • We are flexible and happy to facilitate your product's entire journey or contribute to steps of the process: If you are looking to develop a concept, improve an existing plan or beat a rival in utilitarian and seasoned drinks, we ought to be the first call you make.